After two harsh winter I am in the market for a new pair of boots which this time will not be worn in snow. Leather and suede are my default material when it comes to boots but I am open to suggestions. Brown and black boots are my go to colours usually because they can practically go with anything. Finally my last criteria is
wedge heel boots
for added comfort. Sorry, actually I do have one last criteria which is knee high or calf high boot.
My picks of this seasons winter boots starts with this Bertie Miguel
leather wedge calf boots
in a tan colour. I love the two tone effect of the leather. This bertie boot is also available in dark brown.
This
tan leather knee high boot
is also a contender for its versatility. This italian made winter boot designed by Marta can be worn as a knee high boot or as a calf length boot. Made from the finest quality leather, this boot is fitted with a unique cushioning support. Although not a wedge heel, this boot heel is thick enough to offer stable support.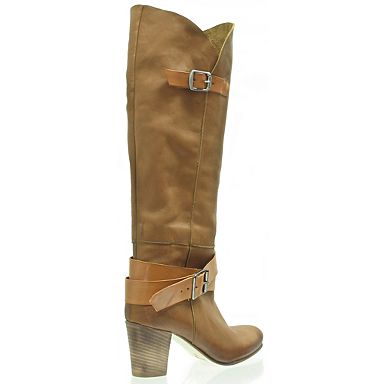 So far my key favorites for boots are brown in colour so I've been forcing myself to look at
black boots
. While browsing I came across this fab boot accessory
faux fur cuff boot leg warmers
perfect for wearing over stocking feet or socks to give your winter boots that added wow dimension when you want to glamour it up a bit. The hunt is still on for some
black winter boots
though. Will keep you posted.