If it is one trend that is always fashionable at Christmas time, it is the sequin trend. The sequin trend is usually very popular around the Christmas season which just adds to the whole glitz and glamour of the holiday season with its glittering lights, shiny gift paper and shimmering red accents. And it is not the magpies who will be making a beeline for you in your shimmering and sparkling sequin outfits.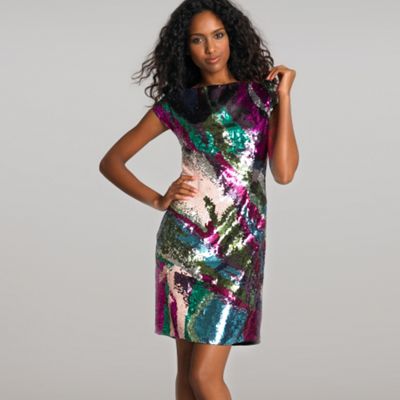 Multi-coloured all over sequin dress by Mathew Williamson from the Butterfly collection

Sequin party wear is dressy; it creates impact and allows you to stand out from the crowd while looking effortlessly fabulous and chic. It is a look, not only for celebrities but perfect if you want a dressier look for your Christmas party.
This soft sequin camisole tunic can just about fit in your bag ready for your night out after work.
You can choose from sequin dresses, sequin tops, sequin tunics, sequin vests and even sequin cardigans. The choice is endless and the sequin tops are great for dressing up a pair of jeans or trousers and just the right size to tuck in your handbag to change after work for that much awaited Christmas party. Hear comes the girls!!!!!

If you feel you are too conservative for a full sequin outfit then go for dresses like this Purple sequin embellished evening dress which is only partly sequenced. This sleeveless sequin party dress embellished jewels at the neckline is another classic option.
Alternatively you can opt to wear an embellished cardigan which practically offers warm and stylistically still creates impact. Choose from this round neck embellished cardigan or this fitted glam evening cardigan.


To see other glamourous sequin christmas party wear
click here
.